Spray Heads and Nozzles
In order to mmed the various spraiyng applications in he field, we select the spray head that is best suited for the task from 4 different types. Thanks to an identical mounting face, the various types of spray heads cand be combined and replaces on the same spraying tool.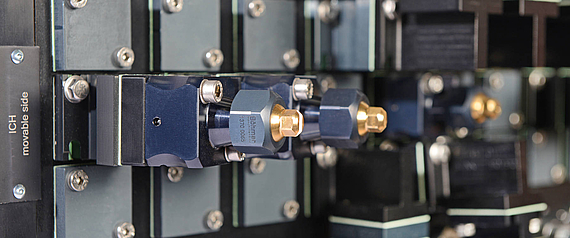 Standard Spray Head "Mini"
Conventional Spraying and Cooling
The "Mini" is the ideal spray head for conventional spraying. It is also used for hybrid spraying to cool the die-cast mould with water or release agent mixed with water.
Release agent pressure up to 25 bar is no problem for the "Mini".
Due to the internal mixing system and its large orifice diameters the spray head "Mini" is absolutely low-maintenance
The "Mini" is available with straight body or in 90° design.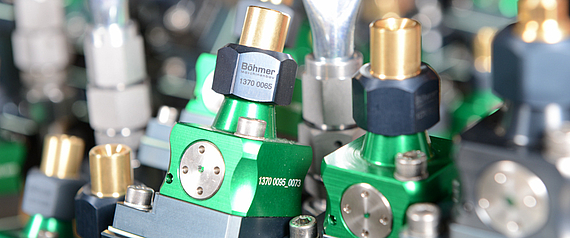 Micro Spray Head "Mini Mikro"
Micro-Spraying and Lubrication
The spray head "Mini Mikro" is used to apply a fine film of relase agent to the die-cast mould. It is the most versatile of our spray heads and excellent results can be achieved from 0.1 to 25 bar release agent pressure.
The spraying volume can be adjusted exactly by replacing the ball nozzle. An optional nano coating makes the "Mini Mikro" low-maintenance, even with small nozzle diameters.
The "Mini Mikro" is available with straight body or in 90° design.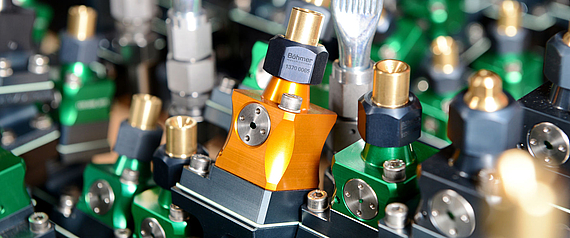 Double Plunger Spray Head "Mini iD"
Interval Metering of Minimum Quantities
The double plunger spray head "Mini iD" is used to spray exactly defined minimum quantities
A completely mechanical construction means that there are no electrical error sources. The "Mini iD" can be retrofitted to existing spray tools to replace the "Mini Mikro" without making adjustments of the spraying program necessary.
The "Mini iD" is available with straight body or in 90° design.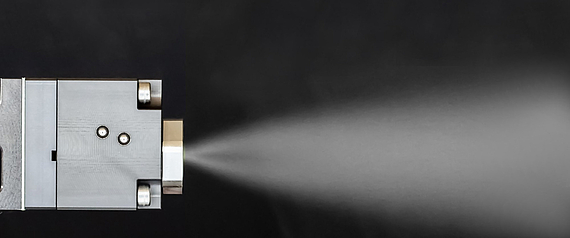 Special Purpose Spray Head
Spraying Media with High Solid Content
Spray heads for squeeze-casting and forging applications are specially designed with stainless steel bodies and spray nozzles, and internal circulation of the material up to the nozzle's orifice.
This type of spray head ensures trouble-free operation, even with spray media having a high solid content.