Balancing Technology
Maschinenbau Böhmer balancing machines balance groups of components such as turbo charger cores very acurately. Balancing turbochargers for automobiles is necessary, because all bodies turning around their axis have a certain unbalance. This results in vibrations that can lead to higher wear and loss of performance.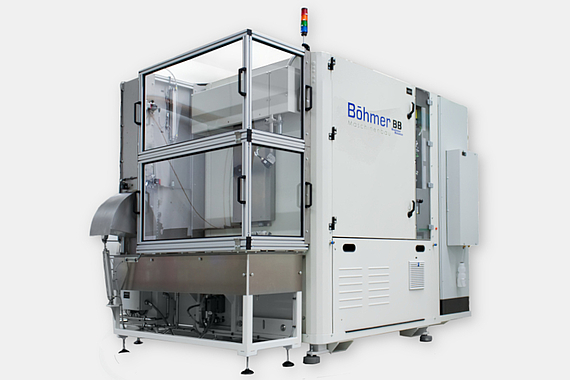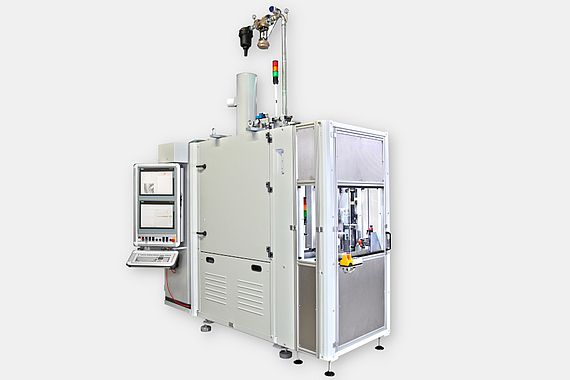 Acoustic Testing and Balancing Machines
A precisely controlled air pressure drive accelerates and decelerates the turbocharger core assembly to about 80% of the final speed it will achieve in the motor. The unbalance of the turbocharger is precisely measured over the complete speed range, even at 300,000 rpms per minute.
During the run-up the vibration of the components is measured and the unbalance for two correction planes is determined. By milling off material on the compressor wheel and on the shaft nut, the unbalance is corrected quickly and precisely.
Balancing turbochargers achieves a residual unbalance of only a few mgmm, so that once installed in a car, the turbocharger enjoys a long and quiet service life.
Basic features
Industry-based measuring and control system
Easy operation
Short cycle times and optimised output
Automatic machining unit for two correction planes
Automatic loading
Accurately regulated air pressure drive
Vibration decoupled core assembly adapter
Pressure and temperature-controlled lubrication unit with integrated fine particle filter
Noise-protected safety cell
Clean vacuum extraction of residual oil
Quick and economic retooling
Durable and easy to maintain design
Optional features
Prepared for integration into an assembly line
Fastening of the mandril nut prior to the balancing process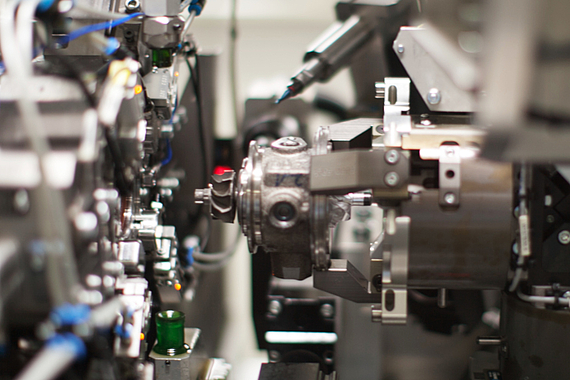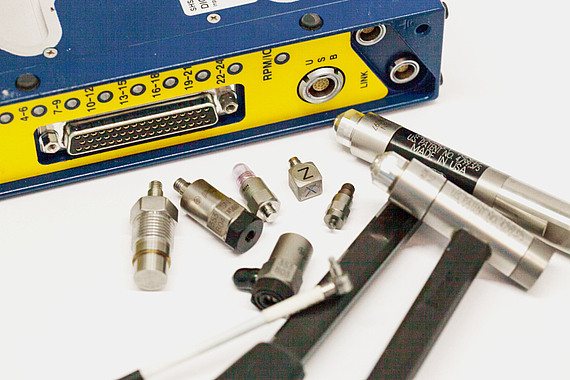 Questions about Balancing Technology?
Send us your inquiry and we will get in contact with you:

Maschinenbau Böhmer GmbH
Industriestrasse 15
57520 Steinebach
GERMANY
Telefon: +49 2747 92 36 0
sales@boehmer-maschinenbau.de
Zum Kontaktformular
Development and Analyses
We are happy to support you with product development. We offer modal analysis of your core assemblies and their individual parts, such as rotor or housing. We do conduct measurements during the running process on site, individual parts are measured in our test lab.
The collected results from the analyses will be used for improvements of your products. We provide a full set of measuring data.
Sensor Calibration
We offer regular calibration of the acceleration sensors for our machines. This can be done on site to minimize down times.
We do provide you with the respective calibration certificates and we also compile a data base with the current calibration data of all sensors. Over time you gain valuable insights about the service life and mechanical load of the individual sensors.